In Memoriam: Lord Michael de Calais
We are saddened to announce that Lord Michael de Calais, of the Barony of Stonemarche, suffered a major heart attack and passed from this world on April the 4th, AS LIV, being 2020 in the modern calendar.  He is survived within our Society by a sister, Mistress Anna Dimitriova Belokon.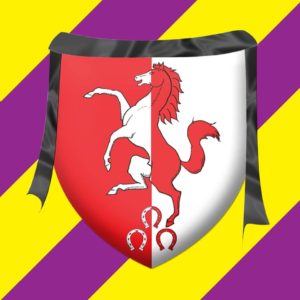 Lord Michael bore arms, Per pale gules and argent, a horse rampant and in base three horseshoes one and two counterchanged, awarded in 1993.
He joined the Society in 1991, and resided within the Barony of Stonemarche throughout his SCA career.  Over the years he held multiple offices in Stonemarche, beginning as Chamberlain.  His award of arms references that service in particular, praising his skill at "getting things back."  At the time he took office, the Baronial equipment was scattered all over the state, and he spent many hours contacting former autocrats to track down equipment and arrange its return.  He also served a brief tenure as Exchequer, before having the wisdom to realize the job did not suit his talents and finding a successor.  Most recently he served as Minister of Lists.
He was a fixture at Gate at Market Day at Birka, going back to at least 1999.  In 2003 Queen Isabella awarded him her Queen's Honor of Distinction for his service there.  If you have ever attended Birka without preregistering, you've probably met him, running a cash register and taking your money with a smile and perhaps a bit of banter.  Only in the past two years did his health keep him away.
He was also instrumental in the infancy of equestrian activities in the East.  He wasn't an organizer of things by nature, but he was always there helping – driving the truck with the horse trailer while someone else drove the chase car full of camping gear, being ground crew when he wasn't riding, mucking stalls, talking to curious people about the activities that were happening, and a myriad of other small things that helped those early equestrian events happen.
He also fought heavy list from his earliest days in the Society, authorizing at the Golden Sword Novice Tourney in Stonemarche in 1992.  He particularly loved fighting at Pennsic, where he fought with Stonemarche's Baronial fighting unit, and then later with the Great Northern Army.  Health considerations prevented him from fighting in recent years, and he generously donated his gear to Stonemarche for use as loaner equipment for new fighters.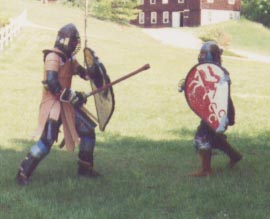 It was rare to find him at an event when he wasn't helping with something.  Often that meant quiet, unsung things like clean-up, or sitting a late shift at an event gate.  He loved to talk with people, and especially to listen to them.
Over the years he was involved with several households.  Initially he was a member of Haus des offenen Tores in Stonemarche, and then later of Haus Oakenwode.  In recent years he was a valued member of House Phoenix Wings, with whom he camped at Pennsic.  While at Pennsic he was also a regular volunteer at the Disability Services Point, where he offered a sympathetic ear to anyone in need, along with practical advice about what services were available.
He was made a Companion of the Order of the Millstone, a baronial level award in Stonemarche, for his service to the Barony in 1997.  He was inducted into the Order of the Silver Crescent in 2002.
He is remembered within the Barony, and by friends across the Kingdom and beyond, as a man who was unfailingly helpful, always kind, and always willing to go that extra mile to help someone who needed it.
Present circumstances prevent an in-person memorial gathering.  An on-line memorial gathering via Google Meet will be held on Saturday, April 18 starting at 7 pm Eastern time.  All are welcome.  If you wish to attend, please leave your email on the sign-up list here:  https://signup.com/go/ZCYqOcM  This does not commit you to speak, but if you wish to do so, you can note it when you sign up. The organizer will send out links to the Google Meet space on the 18th.