Eye of the Tiger Video Dance Challenge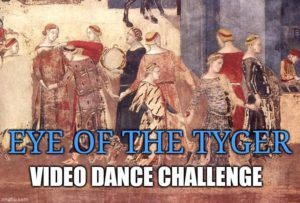 YOUR KINGDOM NEEDS YOU.
TO DANCE.
Congratulations! The East is looking for (more than a) few good citizens to film themselves dancing to Eye of the Tiger to be made into a Kingdom Dance Challenge Video in response to this Midrealm video.
We want to see faces from across the kingdom, from the Barony of Havre de Glaces to the Shire of Caer Adamant, from the Barony of Buckland Cross to the Shire of Ar n-Eilean-ne.
Steps:
1. Make a video of you grooving along to Eye of the Tiger in garb (specific version here)
2. Upload to Dropbox or your Google Drive and email the link to Remy by APRIL 24th!
3. Fill out the Video Release Google Form
4. Enjoy as we upload to the Kingdom and the rest of the Knowne World on May 1st (SCA NEW YEAR)!
Again, deadline is April 24th. And don't worry about audio, we'll fix that in post, but please shoot horizontally.
And we want to see ALL ASPECTS of the East. Sure we've seen armor, but let's see some artisans, fencers, archers, period dancers, calligraphers, musicians, and ALL THE REST that make up the amazing tapestry that is the East!
For questions please contact Contessa Fortune St Keyne.