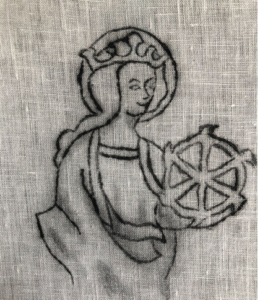 Our 31st research paper is a collaborative project from Amalie von Hohensee and Scolastica Capellaria.
It comes from entries that both artisans presented for a research challenge at the Laurel's Challenge & Exhibition online event in May of 2021. This challenge asked artisans to explore one of those interesting "rabbit holes" that they often come across while doing research. Artisans were encouraged to take some time to find joy in pursuing an interesting or unexpected idea. Both of our artisans choose to research the different ways that late period European embroiders transferred designs onto fabric.
Amalie focused on the "prick and pounce" method while Scolastica spent her time investigating the use of ink for pattern transfer, even going so far as to experiment with different types of ink! Read more about Scolastica's experiments on her A&S Blog. For a combined overview of the use of these two methods written by both artisans, please read on.