By the slimmest of margins, the Mid Realm won the Thrown Weapon Champions War Point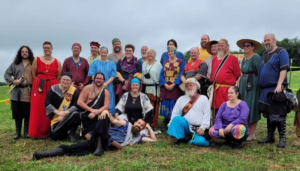 Above the fray, a battle cry rang… Axes, daggers and spears must fly, the ultimately target, the champions tourney points. Alas, the time came, and the gauntlet was thrown, the East and the Mid-Realm faced off, fighting for the honor and glory of their Kingdom. Each team was comprised of 15 throwers, including one competitor for each team under the age of 18.
The tournament was rife with prowess, skill and honor, coming down to the final bout to determine the victor. The tourney was conducted head to head in a best two out of three format, shooting at a wall adorned with 9 landings, requiring the competitor to strike each of the 9 objects as fast as possible. The pairs first threw axes, and moved on to daggers, followed by spears. The prowess and skill of the combatants during the tourney was of such a caliber, that over half of the pairings required a shoot out with spears, the final bout included.
By the slimmest of margins, the Mid-realm laid claim to victory on the range. Not only did the overall win come down to the final bout, but it came down to a tie breaking spear shootout as Matteo took the axe round, while Kumayama (Ally for the Mid) took the dagger round.
Representing the East: (listed in order of qualification not OP)
THL Matteo Genovese
Doctore Pandarus
Lord Durin Bastian
THL Safiya al-Naghira
Master Magnus de Londres
Master Kryss Kostarev of Atlantia
Phaidan O'Leary
Lord Thrainn Steinson
Dame Dealla Cohen of Atlantia
Lord Aki Seulf of Ansteora
THL Mikael Melrakki
Baroness Alanna of Skye
Lord Grimulfr Skulason
Thorfinn Jarnbukr
Caleb Petrasso (known as Two Scoops) under 18 competitor