New Field Coronets for the Prince and Princess of the East
New Field Coronets for the Prince and Princess of the East
It is with great pleasure that we announce new leather field coronets have been gifted to the East Kingdom to be used as regalia by the Prince and Princess.  Lady Talia da Firenze, from the Barony of L'Ile du Dragon Dormant, worked to produce these beautiful new coronets. The design is based off of Their Majesties leather coronets so that both sets were similar.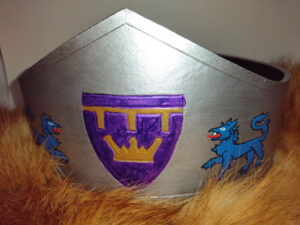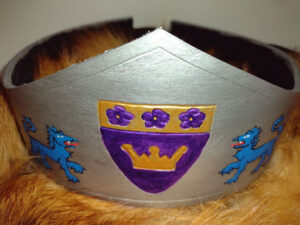 (Photos by Lady Talia da Firenze)
Many people will have already seen them worn by Prince Mohammad and Princess Corotica at NRWC and GNEW, and they will be available for use by any future Heirs of the Eastern Lands. 
Many thanks are extended to Lady Talia for her talent and generosity, and for Master Malcom Bowman and Master Yehuda ben Moshe for their consultation on the design of the coronets.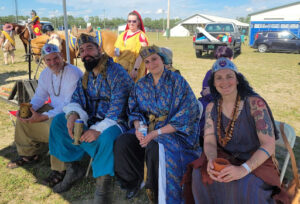 Their Majesties and Their Highnesses and Northern Region Waramp
(Photo by: Lady Sayida Syrine Al-Sakina Bint Houriya)
Nouvelles Couronnes de campagne Princières pour le Prince et la Princesse de l'Est.
C'est avec le plus grand des plaisirs que nous annonçons que de nouvelles couronnes de campagne en cuir ont été offertes au Royaume de l'Est.  Dame Talia da Firenze, de la Baronnie de L'Ile du Dragon Dormant, a réalisé ces magnifiques couronnes. Princières. Le design est basé sur des couronnes de cuir existantes de Leurs Majestés, de sorte que les deux ensembles sont similaires.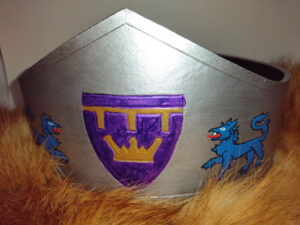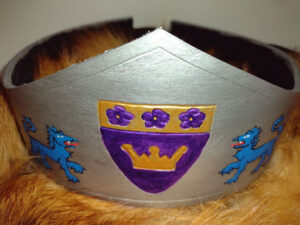 (Photos par Dame Talia da Firenze)
Plusieurs d'entre vous ont eu la chance de voir Leurs Altesses Mohamed et Cortica les porter fièrement lors de NRWC et GNEW. De plus, elles font maintenant partie de la Regalia Royale et tous les futurs hérités des terres de l'Est pourront les porter lors de futures campagnes.
Un remerciement tout particulier à Dame Talia pour son talent et sa générosité, ainsi qu'à Maître Malcom Bowman et Maître Yehuda ben Moshe pour leur aide lors de la conception.
Leurs Majestés et Leurs Altesses  lors du Northern Region Warcamp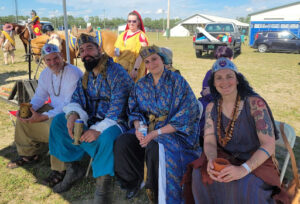 (Photo par:  Dame Sayida Syrine Al-Sakina Bint Houriya)