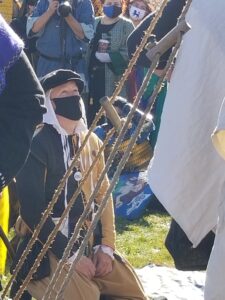 The tournament to determine the heirs of the East has begun in the Barony of Bergental. The tournament will be run as a double elimination tournament through the semi-finals. Please see the bottom of this post for the full format.
The following combatant couples have begun the tourney:
Group Azure (First to March)
Duke Ronald Wilmot for Duchess Bronwyn Dawntreader

Duchess Caoilfhionn inghean Fhaolain for Duke Brennan mac Fearghus

Jarl Valgard Stonecleaver for Lady Gracia Vazquez de Trillo

Viscount Culann mac Cianain fighting for Viscountess Sefa Hrafnsdóttir

Sir Zhigmun' Czypsser for Bannthegn Leda Zipyos

Master Aethelhawk Keyfinder for Mistress Siubhan Wallace

Master Tiberius Iulius Rufus Primus for Lord Vopiscus Rufius Donatus

Sir William MacCrimmon for Lady Susana Fitzgerald of Clan Houston-Hay of Glasgow

Sir Matthias Grunewald for Baroness Æsa feilinn Jossursdottir

Doyen Richard Crowe, Master at Arms for Lady Ameria Browne

Sir Ryouko'jin of Iron Skies for Lady Indrakshi Aravinda

Sir William Lockhart, called Galvyn for Rhiannon of Ayres

Sir Hákon habrok for Lady Eleanor Bywater

Baron Mark Red Hand for Baroness Gwenllian ferch Llewellyn

Baron Angus Gove MacKinnon for Mistress Ciara McRobbie

Baron Elglin of House Eagle for Mistress Juliana von Altenfeld

Baron Wulfhere of Stonemarche for Viscountess Gwenllian Rhiannon of Dragon Keep

Honorable Lord Sigurdr Berserk for Mistress Eleanore MacCarthaigh

Honorable Lord Finan mac Bressail for the Honorable Lady Alys Treeby

Honorable Lord Duarcaín MacWard for Herrin Catháin Reiter

Honorable Lord Vlad Iliescu for Mistress Molly Schofield

Baron Brick James Beech for Lady Isabel the Vulgar

Don Robert Tytes for Don Alastar Tucker

Honorable Lady Aciterix Caldius Julius Cittinius called Kit for Mistress Albreda Aylese

Honorable Lord Pandarus and Baroness Timbrien Sthenone fighting for each other
Group Or(Second to March)
Baron Talan Gwyllt for the Honorable Lady Alison Wodehalle

Honorable Lord Sigvardr Halfdanarson for Lady Bjargey Geirr Hrafnsdottir

Honorable Lord Corwin Blackthorn for Lady Ada Wright

Honorable Lord Fearghus mac Cailin for Lady Catriona bean mhic Cailin

THL Ciarán Ua Baoighill for Runa

Baron Vladimir Báthory for Lady Andrea Noelle

Baron Pádraig Ó Brádaig for Lady Martha Bean Ui Bhradaigh

Baron Alexendre l'Espangol de Orlienz for Mästarinna Margreþa la Fauvelle

Lord Abel atte Watere for Lady Mjaðveig Gormsdóttir

Lord Laurence Vaughn for Lady Lillian Hutchinson

Lord Albrecht Ostergaard for Lady Daniela Rosa da Venezia

Lord Volmar Sollons for Baroness Iulia Baebianna

Lord Cassian Arminious for Lady Nyfain merch Coel

Lord Michał Biały for Lady Robin Baillie

Lord Ceòl of Glenwood for Anya of La Familia Gladiatoria

Lord Damhan MacRonan for THL Agnes Marie de Calais

Lord Marcus Atilius Pansa for Artemisius (Artemis) Octavia Pansa

Lord Aelfwine Akeworthe for Lady Vitalia la Soliel

Lord Thorvald Olafsson Kveld-Hrútssonar for Lady Melisande De La Mer

Aidan of La Famlia for Idris of La Familia

Astrapia Gorgopa called Astraea fighting for Camillius

Caccia Trice Stenone for Sir Cassius Pontianus

Guillaume Du Chantier for Ezra Di Bazzi

Perseus of La Familia Gladiatoria for Crixus of La Familia

Tavish Mackinnon for Saga Bjornsdottir

Zarya Gorgoniya for Thordis Hamrama Gargan
Tourney Format
The tourney will be a standard double elimination tourney.
The first round will consist of a Challenge In round with the combatants split into two groups based on their standings in the Order of Precedence. Those combatants that are in the group with the lower Order of Precedence must challenge a combatant that is in the group that is higher in the Order of Precedence.
After the first round is completed, any necessary Bye fights will be destructive. If you are in the Winner's List, losing your Bye fight will put you in the Loser's List. If you are in the Loser's List, losing your Bye fight will eliminate you from the Tourney. The Bye fights will be fought by that great friend of the East, Syr Beatrix from Aethelmearc.
The Tourney will proceed down until there are four combatants remaining in the Semi-Finals, two from the Winner's List and two from the Loser's List. The combatants will be matched up into two rounds with one combatant from both the Winner's List and the Loser's List fighting each other. The combatants entering the Semi-Finals from the Winner's List will only need to win one fight against their opponent to advance to the Finals. The combatants entering the Semi-Finals from the Loser's List will need to win two fights against their opponent to advance to the Finals.
The Finals for Crown Tourney will be a best of five series. The weapon selection for the five rounds is as follows:
Round 1 Two weapon
Round 2 Sword and Shield
Round 3 Single Sword
Round 4 Great Sword
Round 5 Individual combatants' choice (Bring your best)
The Gazette thanks our reporters on the ground, the MoLs, heralds, Earl Marshal Staff, and their Majesties for their hard work. Any mistakes are entirely on our part, and not theirs.