A livestream provided by the webministry is available here.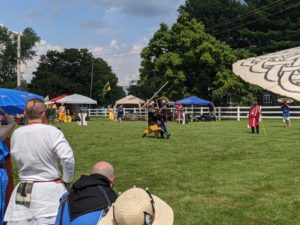 Two combatants remain in contention for the thrones of the East. The finals will be fought as best 3 out of 5 bouts. They will be fought with matched, non-repeating weapons forms with the exception being if a fifth and final bout is needed. The first four bouts will alternate choice of form with the fighter that is higher in the Order of Precedence getting choice for the first bout. If a fifth and final bout is necessary, each fighter may bring their best with no requirement that the forms match.
Count Ioannes Aurilius Serpentius, for Countess Ro Honig von Summerfeldt who carries one defeat
Sir Matthias Grunewald, for Baroness Æsa feilinn Jossursdottir who carries one defeat
The Gazette thanks the MoLs running today's tournament.  Any mistakes belong to the Gazette staff.