Crown Feeder begins in Quintavia/Carolingia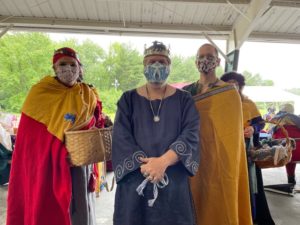 The first rounds of the tournament to determine the heirs of TRM Tindal and Alberic have begun in the shire of Quintavia, co-sponsored by the Barony of Carolingia
As a reminder, the format is as follows:
The feeder tourneys will have the combatants present divided into two equal pools and will be fought in the round robin style. The combatants will fight one bout against every other combatant in their pool. The four combatants with the most wins in each pool will advance to the Final 16 Tourney.
The combatants in the first pool are:
Duke Randal of the Dark, for Duchess Katherine Stanhope
Sir Matthew D'Arden, for Mistress Fia Kareman
Sir Matthias Grunewald, for Baroness Æsa feilinn Jossursdottir
Doyen Richard Crowe, Master of Arms, for Lady Ameria Browne
Lord Volmar Sollons, for Baroness Ilulia Baebiana
Lady Timbrien , for Sir Cassius Pontianus
Lord Mikjáll Ragnulfsson (was Michael Hietala), for Yrsa Ragnulfsson
Caccia Trice Sthenone for THL Pandarus
The combatants in the second pool are: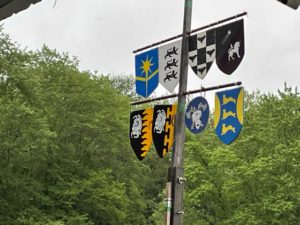 Master Aethelhawk Keyfinder, for Mistress Siubhan Wallace
Sir Hrafn Bonesetter, for Lady Rosa da Murano
Sir Cassius Pontianus (was Cassius of La Familia), for Lady Timbrien
Baron Wulfhere of Stonemarche, for Viscountess Gwenllian Rhiannon of Dragon Keep
THL Pandarus, for Caccia Trice Sthenone
THL Duarcaín MacWard, for Herrin Catháin Reiter
Lord Corwin Blackthorn, for Lady Ada Wright
Lord Marcus Atilius Pansa, for Artemisius Pansa
Photos courtesy of Nicole Toscano Spaulding.