Crown Feeder Begins in BBM
The first rounds of the tournament to determine the heirs of TRM Tindal and Alberic have begun in the Barony Beyond the Mountain.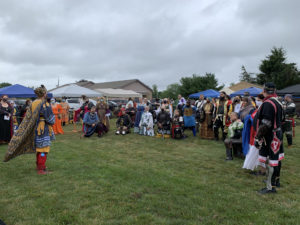 As a reminder, the format is as follows:
The feeder tourneys will have the combatants present divided into two equal pools and will be fought in the round robin style. The combatants will fight one bout against every other combatant in their pool. The four combatants with the most wins in each pool will advance to the Final 16 Tourney.
The combatants in the first pool are:
Sir Ryouko'jin of the Iron Skies, for Lady Indrakshi Aravinda
Viscount Culann mac Cianain, for Viscountess Sefa Hrafnsdóttir
Guillaume Du Chantier, for Ezra Di Bazzi
Baron Pádraig Ó Brádaig, for Lady Martha Bean Ui Bhradaigh
Baron Angus Gove Mackinnon, for Mistress Ciara McRobbie
Baron Talan Gwyllt, for Lady Alison Wodehalle
Baron Vladimir Báthory, for Lady Andrea Noelle
THL Sigurdr Berserk, for Mistress Eleanore MacCarthaigh
Duchess Caoilfhionn inghean Fhaolain, for Duke Brennan mac Fearghus
(Bye) Hakon Habrock
The combatants in the second pool are:
Count Ioannes Aurilius Serpentius, for Countess Ro Honig von Summerfeldt
Jarl Valgard Stonecleaver, for Lady Gracia Vazquez de Trillo
Lord Michał Biały, for Sakurayama Tomoe
Don Robert Tytes, for Don Alastar Tucker
Gilbert Christian Blackmoore, for Mistress Suzanne Neuber de Londres
Lord Aelfwine Akeworthe, for Lady Vitalia la Soliel
Tiarna Seán Dubh, for Jennifer Marshall
Baron Elgin of House Eagle, for Mistress Juliana von Altenfeld
Lord Laurence Vaughn, for Lady Lillian Hutchinson
Viscountess Sefa Hrafnsdóttir, for Viscount Culann mac Cianain
Photo by Melissa McGavin