Temperance Drinkwaters Companie Presents Shakespeare's Henry V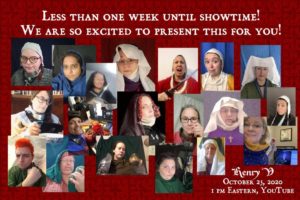 On Sunday, October 25, 2020 (Saint Crispin's Day), Temperance Drinkwaters Companie will present the Historie of Henry V by William Shakespeare live on YouTube.  The show is at 1 p.m. Eastern U.S. time (GMT-4).  More information can be found on Facebook or at the Companie's website.
Temperance Drinkwaters Companie was created during the COVID-19 pandemic by Mistress Alys Mackyntoich with the assistance of eager actors, tech crew and support staff from five different Kingdoms.  The aim of the Companie is to create and present period performing arts via on-line venues while we are unable to gather in person and perhaps afterwards as well.  Henry V features participants from the East, Drachenwald, Atlantia, Meridies and Calontir.
This particular production of Henry V differs from most because it is deliberately gender-swapped: all male roles are played by female and non-binary actors, all female roles are played by male actors. Viewers will get to see women and non-binary actors perform some of Shakespeare's most heroic speeches, including what promises to be a stunning performance by Countess Marguerite inghean Lachlainn as King Henry.
Why should people watch the show?  Let's hear what the cast has to say:
"The SCA has allowed me to be both a woman and a warrior, and I love that we can bring that to Shakespeare." – Duena Mercedes Vera de Califia (East) / Corporal Nym
"[H]opefully this will make Shakespeare accessible to everyone who's stuck at home and wants something fun to watch. (But don't pay any attention to the anti-French propaganda, that's just 1600s England blathering.)" – Lady Nurja Cherbin (East) / Archbishop of Canterbury
"I love the sheer talent of our cast, and the creative and collaborative work of our group." – Baron Konstantia Kaloethina (Calontir) / Earl of Cambridge
 "I love the nuance that we are all finding in our roles, large and small.  It's not just *nose in air* Shakespeare, it's a conversation.  It's feelings that aren't just "dramatic", and I love seeing the characters become people as we go." – Baroness Muirenn ingen Ciric (East) / Boy 
Come see what all the fuss is about on Sunday, October 25, 2020.