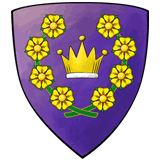 My dearest East Kingdom,
We are all saddened as We learn about citizens of the East who have passed away due to COVID-19 and its complications. We raise a glass in memory of all those lost in the time of this pandemic.
Our thoughts continue to be with you, Our friends and family. Be safe, reach out to Us and/or one another and, most importantly, please try to be kind. Remember we are all struggling through this, but kindness to one another will help us all get through these difficult times together.
With warmest regards,
Margarita Queen
TRH Tindal and Alberic the Princes of Tir Mara