East Kingdom Pennsic Combat Leadership Announced
Unto the Populace of the East,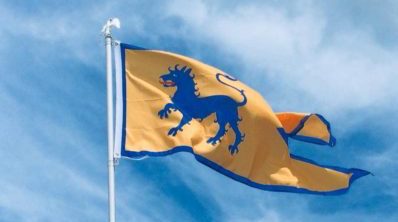 The Tyger marches the road to War; so begins the process of honing our edges, painting our banners and tuning our drums. Their Royal Highnesses have seen fit to allow me to apoint members of our beloved East to lead the Tyger Army to victory, and prove that the Tyger's dominion is the sacred Pennsic grounds.
To begin such a campaign I have selected and named our Generals. Master Tiernan Macalpine is the East Kingdom Armored General and Her Grace Caoilfhionn inghean Fhaoláon is the East Kingdom Rapier General.
To Lead the some of the most elite fighters in the known world; Estgar æt Hrofeceastre formerly known as Angus Pembrige shall captain the Unbelted Champions
For selection and pairing advisors for Heroic Champions I have called upon Master Thomas of Effingham (Rapier), and Sir Arne Ulrichson (Armor) to serve as I a Shogun would call "Dyueru Masutāzu" or in a more common tongue Duel-Masters.
The road is long and there is much to be done before we stand once more in the grand arena. We are assembling special councils some new, some long proud Eastern traditions; both for the War and the Eastern War College.
The March Begins. One army. Many stripes. Fearful symmetry
Yours in service,
Ryouko'jin of the Iron-skies
Warlord of the East
==========================
Greetings to my beloved Kingdom!
I am humbled and honored to have been chosen by our Princes and our Warlord to serve the East as General of the Rapier Army. I am thankful for Their faith in me, and I will strive, as ever, to serve my Crown and Kingdom well.
We have much to look forward to this Pennsic, but there is also much work to be done.
I begin by assembling the Rapier Army Staff that will help lead us to victory.
Hersir Xavier the Sinister (Alexandre Quesnel) has agreed to be my second-in-command. Master Thomas of Effingham (Effing Thomas) has accepted the position of Duel Master from our Warlord.
We are looking for leaders and tacticians, organizers and sergeants, people who can command the Tyger Army in combat. People who can lead the Tyger Army in the relative peace before the storm. People who can help us to build and train the best rapier Army in the Knowne World.
All are welcome to apply, all are welcome to attend command meetings and learn the fine art of wielding a unit (cohort), a region (legion), and an army as a weapon.
Formal position descriptions are forthcoming, but I will waste no time in seeking acknowledgement of intent from those who wish to serve. We have need of XOs, regional commanders, an aide-de-camp, champions melee and heroic champions captains, a war advisory council, and various others.
Please fill out the form linked to this post to declare your interest in joining this team.
In service to the East,
Caoilfhionn Dux
TL;DR: I'm a general! Wheeeeee!
If you want to be on the rapier army staff, or just have an interest in learning about all of this command stuff, please fill out this form. Job descriptions are in the works.