Important Reminders about Fall Crown Tournament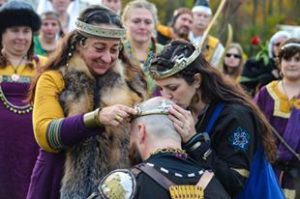 The following information about Saturday's Crown Tournament has been shared by the Event Stewards, Lord Toki Graevlingen and Countess Natavia DeCadenet:
The site opens at 9 am.
The Lists table will be closing at 10 am. Fighters and consorts procession line up will be at 10:30 am. Procession and the tournament begins at 11 am sharp.
There is a breakfast for Consorts & Roses at 10 am in the Main Hall.
Combatants are strongly reminded to bring their shield for the shield tree with them. If you need information about what a shield tree is or how to make one, please read this article on the East Kingdom Wiki.
The format of the tournament will be as follows:
– Combatants will fight round robin in four pools.
– The top four from each pool will advance into a 16 combatant double elimination tournament.
– For fighters who reach the semi-final round, the format will be matched weapons, best 2 of 3 fights.
– The final two fighters will advance to a best 3 of 5 format, with weapons in the following order: Greatsword, Great Mace, Dane Axe, Choice by higher precedence combatant, Choice by lower precedence combatant.
The main round robin will be fought outdoors. Then there will be a break, and remainder of the tournament will be fought indoors, so there will be light and heat for the remainder of the tournament. If the weather conditions are prohibitive, the entire tournament will be fought indoors. Combatants are reminded to have indoor fighting shoes with them. Cleats are not allowed indoors.
Important: Automobiles are not allowed to drive between parking and the tournament field. The distance from the parking lot to the list field is 330 yards, along a paved path. If you have large or heavy items to carry from your vehicle, you may want to use a wagon or cart. A golf cart shuttle will be available for event attendees who require mobility assistance. Please plan accordingly and allow extra time for this trip.
A map of the site has been posted on the Facebook event page linked here
A video showing the trip from the parking lot to the tournament field has been posted on the Facebook event page linked here
Dogs are not allowed on site.
Dayboard will be served beginning at 12 noon.
Evening Court estimated at 5 pm.
Site closes at 9 pm.
Click here to read the full event announcement on the East Kingdom web page.
Click here to access the Facebook event page for Fall Crown Tournament.