Unofficial Court Report: Crown and Queen's Rapier Champions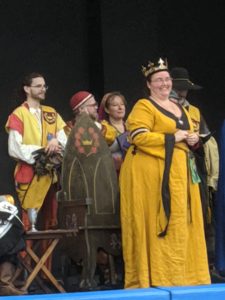 Being an account the Court of Her Majesty Queen Margarita held on November 2, A.S. LIV (2019) in the Barony of Buckland Cross at Crown and Queen's Rapier Championship.
Court Heralds: Malcolm Bowman, Jamilla al-Suba al-Hadid min Bhakail, Marian Kirkpatrick
Reporting Herald: Malcolm Bowman
Master Donovan Shinnock won the tournament and was named Crown's Rapier Champion.  Editor's Note: This is Master Donovan's fifth time serving as Rapier Champion, the most of any rapier fighter in the East.
Scroll made by Mariette de Bretagne
Don Robert Tytes was chosen as Queen's Rapier Champion.
Scroll made by Mariette de Bretagne
Quentin Lawless was awarded a Silver Rapier
Master Avaldr Valbjarnarson was awarded a Silver Rapier.
Scroll made by Thyra (Þóra) Eiríksdóttir.
Gregori Rogue Montana was made a member of the Order of the Golden Rapier.
Scroll Illumination by Camille des Jardins, Calligraphy by Anna Mickel von Salm, and words by Marguerite inghen lachlain
Additionally,
The Ladies of the Rose presented Tokens as follows:
Viscountess Sefa presented tokens to Thora Kottr and Evan the Brave
Duchess Caoilfhionn presented tokens to Thomas del Broc and Andruta Jezofyna
Queen Margarita presented tokens to Edmund Forster and Gregori Rogue Montana
The Cloak of Perseverance was awarded to Don Owynn Greenwood.
The Toybox was run by Master Davius St. Jacques.
The lone, well-dressed newcomer present received a mug.
Her Majesty's Inspiration Token was presented to Phaedra de Vere.