Consort's and Sovereign's Archery Championships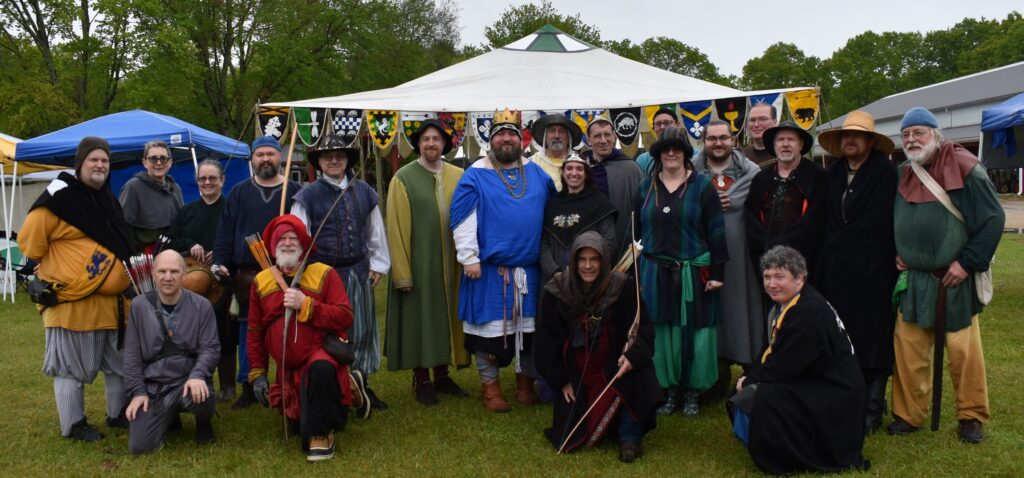 About 35 archers from all around the Kingdom braved the weather on Saturday, May 20, 2023, to gather in Barony Beyond the Mountain and test their skill. The retiring Consort's Archery Champion, Master Ryan MacWhyte, addressed the competitors, reminding them that the new Champions will not only serve the Royalty but the entire archery community. He and the retiring Sovereign's Archery Champion, The Honorable Lord Ciaran Ua Meic Thire, then got the shooting underway. The theme of the day was Trickster Gods.
In the morning, there were three shoots for all as one group – a long distance target of Loki on the Bifrost, "advancing" Mjolnir (3 distances), and a hidden Sleipnir (the target was only its legs). After breaking for lunch, competitors broke into small groups and rotated through five shoots. These involved hitting a Staff, Gourds guarded by Anansi, several Tanuki, Apples (without hitting larger beehives) scattered on the ground, and the "Fairie's Bargain" – a timed shoot at concentric scoring and non-scoring rings.
Scores were totaled and sorted, then King Brennan, Prince Matthias and Princess Feilinn praised the day's performances. Master Ryan then reminded all competitors that they could step out of the finals with honor if they felt they could not fulfill all the duties of Archery Champions. All 15 top scorers agreed to compete. There was a three-way tie for the 16th slot in the finals, but Karrah the Mischievous and Jia-Lin (at her first SCA event!) both bowed-out, and Dorian of Lewes agreed to continue. The final 16 competitors, with their total scores for the day, were as follows:
Eanraig the Bonesetter (63)
Antonius Hasebroek (54)
Aloysius Sartore (52)
Peter the Red (50)
Ygraine of Kellswood (49)
Ander Tynegate (47)
Macsen Felinfoel (45)
Kai MacLain (45)
Safiya al-Naghira (43)
Matteo Genovese (43)
Alberic maqi Droata (42)
Broccin MacIvyr (42)
Ellyn Grene (41)
Sojourner van Haarlem (39)
Thurayya (39) (formerly known as Melmyra of Quintavia)
Dorian of Lewes (37)
The retiring Champions set up the range for head-to-head pairings, as has become tradition. The finals shoot represented Loki's Five Fingers, and each archer had up to one minute or eight shots to hit as many of their five targets as possible. Shooting would cease if an archer hit all five of their targets before those limits were reached.
Here are the first eight pairings, with the winner's names bolded:
Eanraig (#1) vs Dorian (#16)
Antonius (#2) vs Thurayya (#15)
Aloysius (#3) vs Sojourner #14)
Peter (#4) vs Ellyn (#13)
Ygraine (#5)  vs Broccin (#12)
Ander (#6)  vs Alberic (#11)
Macsen (#7 ) vs Matteo (#10)
Safiya (#8) vs Kai (#9)
The distance was changed and archers were limited to six shots, then the next four pairings began:
Eanraig vs Safiya
Antonius vs Matteo
Aloysius vs Ander
Peter vs Ygraine
The distance and number of shots were adjusted again, and the last two pairings were Eanraig vs Peter and Aloysius vs Matteo.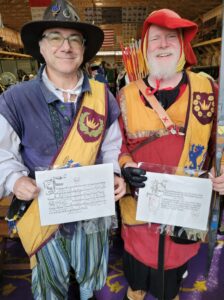 For the final round, Peter and Matteo were limited to eleven arrows, there was no time limit, and the winner would be the first to hit all five of their targets. The victor proved to be Master Peter the Red, and he was declared the Consort's Champion. In Court, King Brennan announced His choice of Lord Eanraig the Bonesetter as Sovereign's Champion, and the outgoing and incoming champions were cheered by those assembled.
Final 16 photo by Baroness Arlyana van Wyck
New Champs photo provided by Lord Eanraig
Reported by Mistress Ygraine of Kellswood, who requests corrections and forgiveness for anything she got wrong.