Prince Brennan and Princess Caoilfhionn announce their Polling Policy & Schedule
Greetings to the Companions of East Kingdom polling Orders,
We write today to share our plans for polling in the coming reign. Our beloved predecessors have tried various different schedules over the past several reigns. We have heard feedback from many of you regarding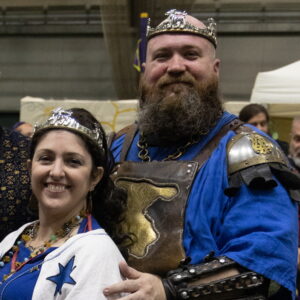 the positive and negative aspects of the schedules, both from a respondent's perspective and from the administrative perspective. With all of that in mind, we have settled on moving forward with 3 polls for our reign.
Recommendations for polling will be due on the 31st of January, March & May 2023. It is our goal to put out a poll during the first weeks of February, April & June. Each polling cycle will last approximately 2-2.5 weeks, with responses due at midnight on Sunday, Eastern Standard Time as has been the norm.
It is our hope that this information will allow the Orders to make educated choices in their discussions and write recommendations accordingly. We thank you for your continued support and leadership of the East and Her various communities.
In Service to the East,
Brennan and Caoilfhionn