In Memoriam: Baron Salaamallah the Corpulent
It is with a heavy heart that we announce the passing of Baron
Salaamallah the Corpulent, second landed baron of the Barony Beyond the
Mountain and for many years, the heart and soul of our barony and the
Canton of Fennbrycg in its heyday from the 1970s to early 1990s.
Salaamallah, Jeffrey DeLuca, 78, died Saturday, May 28 at a rehab center
near his longtime Willimantic, CT home. He had suffered numerous health
issues in recent years. He leaves his beloved, devoted wife, Lucy, whose
SCA name told all, Gwendolyn Oftputupon.
She supported his every endeavor in his SCA life. They cooked for days
to prepare for the Feast of Simplefare, turned their home into a games
factory and rode together to Pennsic for two weeks of heat, dust, rain
and mud to sell and teach Medieval games.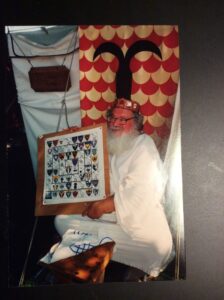 Salaamallah served as baron from January 1986 to July 1998. But his
lasting influence on the Barony dates from the founding of the barony 50
years ago in 1972 and will live on into the future. He served as
baronial herald for Balin and designed and submitted the baronial arms
in 1972. He placed the mandated laurel wreath inconspicuously on the sun
in the design. He used to describe it as being "the smiley face on the sun."
For years, Baron Salaamallah was the centerpiece of Friday night dance
practices at the University of Connecticut Student Union. Those sessions
became a ritual for many participants, who remained friends long
afterward, thanks to Salaamallah. And Salaamallah always brought the
cookies.
He welcomed newcomers, helped teach dances, told stories of Medieval or
SCA history – who can recall his William Marshall and King John stories?
When dance practices turned into sewing sessions, Salaamallah would
remind everyone not to forget headwear and shoes. He had bought all
sorts of hats and veils of different periods, urging us to borrow them
and make our own pieces.
One day, he taught a friend a period board game and the two engaged in a
spirited contest. When the friend asked where he could get such a game,
Salaamallah had to tell him that no one had played that game for
hundreds of years. "You just taught me a great game that I'll never be
able to play," the friend said.
So, Salaamallah started researching, making and selling games. He wrote
a basic book of games and years later, greatly expanded it with Asian
and African games. Eventually, and rather surprisingly, Salaamallah
became a merchant at Pennsic for several years before he retired and
sold the games business.
Salaamallah's feasts were legendary. He titled it Simplefare, with the
idea that it would be just good, simple food, and LOTS OF IT! In the
early years of the event, Salaamallah lived the cliché, chief cook and
bottle washer. He soon coached a growing kitchen staff that eventually
turned Simplefare into an automated machine that lasted many years
before tiring out.
Salaamallah had retired from SCA activities in recent years, his health
declining in the past few years.
"It's rare to find someone who is so universally liked, and Jeff was one
of those people," said Kendra the Indecisive, a longtime friend.
"Words are inadequate to express my sadness at the loss of Salaamallah
the Corpulent," said Baron Balin the Fairhaired, founding Baron Beyond
the Mountain (Dale Plummer). "For many years, he was the glue that held
the Barony Beyond the Mountain together, as Seneschal and the creator of
the famed Feast of Simplefare. Raconteur, historian, teacher, he was
enthusiastic about everything he put his hand to. My condolences to his
wife, Gwendolyn the Oftputupon (Lucy) and the rest of his family and his
innumerable friends."
"He was a formative part of my life," said Mistress Eloise of Coulter,
fourth Baroness Beyond the Mountain. "Just by being the man he was, he
modeled for me what I aspired to be as a Baroness, as a Peer, as a
friend. He was an inspiration and a mentor to so very many of us, and we
are diminished by his loss."
The photo of Salaamallah holding the game board was taken by Evaine
fyrdd Brangment.The other two were taken by Eloise of
Coulter