Crown Tournament is Today!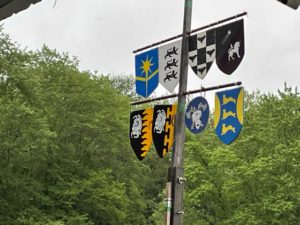 Today, the Baronies of L'Ile du Dragon Dormant and Havres des Glace will host the combatants and their consorts vying for the honor to become the heirs to the Tyger Thrones.
The list of combatants and their consorts are as follows:
THL Reinhart Basarab Draculesti for Leana Doucet

Sir Matthias Grunewald for Baroness Æsa feilinn Jossursdottir

Duke Magnus Tindal for Master George Emerson True

Jarl Valgard Stonecleaver for Lady Gracia Vazquez de Trillo

Viscount Culann mac Cianain and Viscountess Sefa Hrafnsdóttir, fighting for each other

Honorable Lord Sigurðr Berserkr for Mistress Eleanore MacCarthaigh

Jan Janowicz Bogdanski for THL Rosamund von Schwyz

Sir Mohammad Al Wajdi Al Abderrafi Al Manil Ibn Horrah Ibn Gowan for THL Corotica Merkka Senebelenae

Sir Angus Gove MacKinnon for Mistress Ciara McRobbie

Sir Zhigmun' Czypsser for Bannthegn Leda Zipyos

Sir Angus McHaley for Mistress Tadea Isabetta di Bruno

Master Aethelhawk Keyfinder for Mistress Siubhan Wallace

Master Tiberius Iulius Rufus Primus for Lord Vopiscus Rufius Donatus

Sir William MacCrimmon for Lady Susana Fitzgerald of Clan Houston-Hay of Glasgow

Doyen Richard Crowe, Master at Arms for Lady Ameria Browne

THL Ikhlas Al-Chakib for Mistress Marguerite de Gui

Sir Duarcaín MacWard for Mistress Cathain Reiter

THL Galbrait MacGowan for Lady Syrine Al-Sakina Bint Houriya

Baron Pádraig Ó Brádaig for Lady Martha Bean Ui Bhradaigh

Lord Azim le Scout for Lady Nariman Min Alghaba

Bierov for Lady Khayra bint Sa'ïd

Lando and Mordred, fighting for each other

Saga Bjornsdottir and Tavish Mackinnon, fighting for each other
Crown Tournament Field Guide produced by Mistress Christiana Crane and her amazing team
The format is as follows:
Unto the populace of the East do I, your friendly neighborhood Wilhelm, send greetings!
The following is the format for crown tourney this weekend.
There will be four Round Robin buckets (hope you worked on your cardio) with the best four from each list advancing. Ties will be resolved with a 1 on 1 fight.
The Sweet Sixteen will be standard Double Elimination (double kills will be re-fought)
The Final Four will be best 2 out of 3.
The Finals will be best out of seven, matched weapon forms (the weapons themselves need not match) no previous wounds retained.
Round 1: Weapon and Madu (madu will be provided by their Majesties).
Round 2: Loser from round one picks the next weapon form and so on.
No individual combatant may pick the same form twice, however the same form may be chosen by both combatants.
If we reach round seven, it will be bring your best form.
I am going to repeat this until you hear it in your sleep. Check your armor and weapons prior to leaving for the event. Make sure your armor is in good repair and your weapons all meet parameters as everything will be inspected thoroughly. Bring tools for repairs that may happen while there as that is the worst way to be knocked out of a tourney.
Fight hard, fight honorably, and do honor unto to the one who inspires you that day.
The Gazette thanks our reporters on the ground, the MoLs, heralds, Earl Marshal Staff, and their Majesties for their hard work. Any mistakes are entirely on our part, and not theirs.