Master Duncan Mac na Ceardadh – a Remembrance
Good Gentles of the East Kingdom:
As many or most of you know His Excellency, Master Duncan Mac na Ceardadh, recently passed away.  Master Duncan was a true kind and gentle soul, and was not afraid to stand-up for what he believed was good and right.
There are so many people of our kingdom who tell stories about the how he was the first person they met in the SCA. How they were made to feel welcomed and included by him. He treated everyone with respect and dignity, regardless of their station.  He was the calm voice during storms of chaos, and confusion.  He would ask the questions you needed to hear, but in a way that was not hostile. He gave his opinions and ideas with elegance and wit. You knew he was an educated man, but he never spoke in a demeaning manner.
Master Duncan was inducted into the Order of the Pelican in 2009.  He was an unseen force in the Baronies of Carillion, Iron Bog and the entire Southern Region of the kingdom. Although he did not often stand in the spot light his presence was felt as the Southern Regional Seneschal.  Coming out of administrative retirement, he was recently appointed as the Barony of Iron Bog's Seneschal. Master Duncan worked behind the scenes at every local event.  He was one of those people who was the first to arrive at events to help and one of the last to leave at the end helping cleaning the hall.  He organized rooms, did set up, and brake down for Royal and Baronial courts, feasts and classes.
The time he stood out the most was during feasts.  I cannot think of an Iron Bog or Carillion feast when it came time for toasts that his voice was not heard.  He always asked regardless of his precedent to make the toast, "To Absent Friends, less we forget those who had gone before us, or those who could not be here because they were serving our county."  At the next feast, this toast will somehow feel a little sadder.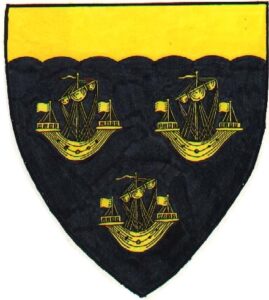 Duncan also had a dry sense of humor and a good understanding of theater when it came to Court.  The Southern Region being New Jersey he was the head of, "The Iron Bog Investment Bureau". This dubious organization would provide tribute to the landed Barons and Baronesses of the region with supplies for their scribes, cooks guild, rattan fighter and fencer equipment repair kits. No questions would be asked where he got the tribute from, but it was always put to good use.
Although he did not fence, he was loved by many in the fencing community. As an example, he created dress bucklers for House Tadcaster, not because he was asked too, but because he thought it would be a good idea. He worked at many fencing events behind the scenes. This way, our fencers could enjoy their time doing what they loved best.
Our Kingdom and our Society are a better place because of his presence and his work.  He will be sorely missed by all who knew him.
Yours in Service,
Master Lawrence Thornguard, Baron Iron Bog, O.P.