Alberic & Tindal Announce Crown Tournament Feeder Updates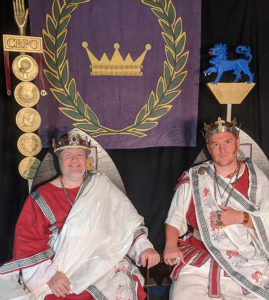 We have seen the new guidelines from the Board, and will have updates on how this will be handled within the East Kingdom next week. We appreciate that the pace and limits on returning to in-person events is an issue with many opinions and emotions, and We will continue to act with caution and the safety of the Eastern populace as Our foremost concern.
We are moving forward with Crown Tournament and the feeder tournaments as planned. We feel it is very important at this point to continue on the course set to find Heirs.
There will be two feeder tournaments, both held on July 3, one in the Barony Beyond the Mountain and one by the Barony of Carolingia and the Shire of Quintavia.
Each tournament will have two round robin lists, with each list advancing four fighters and consorts to a final Crown Tournament of 16. The specific pools will be determined on July 3 at the feeder tournaments.
With hope and joy,
Alberic & Tindal
Consules East
The assignments for the Feeder tournaments are as follows:
Barony Beyond the Mountain Tournament
Duchess Caoilfhionn inghean Fhaolain, for Duke Brennan mac Fearghus
Jarl Valgard Stonecleaver, for Lady Gracia Vazquez de Trillo
Count Ioannes Aurilius Serpentius, for Countess Ro Honig von Summerfeldt
Viscount Culann mac Cianain and Viscountess Sefa Hrafnsdóttir, fighting for each other
Sir Ryouko'jin of the Iron Skies, for Lady Indrakshi Aravinda
Baron Angus Gove Mackinnon, for Mistress Ciara McRobbie
Baron Elgin of House Eagle, for Mistress Juliana von Altenfeld
Baron Vladimir Báthory, for Lady Andrea Noelle
Baron Pádraig Ó Brádaig, for Lady Martha Bean Ui Bhradaigh
Lord Corwin Blackthorn, for Lady Ada Wright
Lord Fearghus mac Cailin, for Lady Catriona bean mhic Cailin
Tiarna Seán Dubh, for Jennifer Marshall
Lord Laurence Vaughn, for Lady Lillian Hutchinson
Lord Michał Biały, for Sakurayama Tomoe
Gilbert Christian Blackmoore, for Mistress Suzanne Neuber de Londres
Lord Guillaume Du Chantier, for Ezra Di Bazzi
Barony of Carolingia and the Shire of Quintavia Tournament
Duke Randall the Dark, for Duchess Katherine Stanhope
Sir Stephen Grandchamp, for Mistress Ellen du Grandchamp
Sir Matthew D'Arden, for Mistress Fia Kareman
Master Aethelhafoc Keyfinder, for Mistress Siubhan Wallace
Master Tiberius Iulius Rufus, for Lord Vopiscus Rufius Donatus
Sir Hrafn Bonesetter, for Lady Rosa da Murano
Sir Matthias Grunewald, for Baroness Æsa feilinn Jossursdottir
Master of Arms Richard Crowe, for Lady Ameria Browne
Sir Cassius Pontianus and Lady Timbrien, fighting for each other
Baron Wulfhere of Stonemarche, for Viscountess Gwenllian Rhiannon of Dragon Keep
Baron Talan Gwyllt, for Lady Alison Wodehalle
Lord Asgar Roulfson, for Gavin Asgarson
THL Sigurdr Berserk, for Mistress Eleanore MacCarthaigh
THL Duarcaín MacWard, for Herrin Catháin Reiter
Don Robert Tytes, for Don Alastar Tucker
THL Þorin Úlfsson, for Baroness Muirenn ingen Ciric
THL Pandarus and Caccia Trice Sthenone, fighting for each other
Lord Aelfwine Akeworthe, for Lady Vitalia la Soliel
Lord Bison of Thunder, for Lady Kate the Wicked
Lord Volmar Sollons, for Baroness Ilulia Baebiana
Lord Mikjáll, for Yrsa of Quintavia
Lord Marcus Atilius Pansa, for Artemisius Pansa