SCA, Inc Issues Call for Commentary – Peerage Committee Proposal
Read this announcement on the sca.org website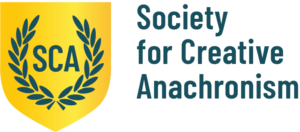 The SCA Board of Directors has received from the Peerage Committee a proposal for a possible new pan-activity patent order in the SCA and a framework for future orders, should the need arise.  The proposal calls for recognizing those members who are already acting as peers in an endeavor but cannot be considered for elevation to one of the existing peerage orders because that endeavor or endeavors fall outside the areas considered by those orders.  It also outlines how activity-specific peerages might be formed out of this shared peerage only when it is clear that the activity has achieved a level of participation and maturity within the Society to warrant its own peerage order.
Nothing in this proposal is final at this point in time.
The complete proposal can be found here:  https://www.sca.org/wp-content/uploads/2021/04/New-Peerage-Proposal-.pdf
A FAQ for this proposal can be found here:  https://www.sca.org/new-patent-order-proposal-faq/
The Board seeks commentary on this proposal.  Please send your comments to sca-comments@lists.sca.org on or before June 21, 2021.
Additionally, the Board will in the coming weeks issue a poll on this proposal using its survey module at https://members.sca.org.  Be watching for it on the SCA Announcements email list, at https://www.sca.org/news-events/, or on the SCA Facebook page.
Comments are strongly encouraged and can be sent to:

SCA Inc.
Box 360789
Milpitas, CA 95036
You may also email sca-comments@lists.sca.org.
This announcement is an official informational release by the Society for Creative Anachronism , Inc.  Permission is granted to reproduce this announcement in its entirety in newsletters, websites and electronic mailing lists.