Award Recommendations due TONIGHT (Sunday, February 7)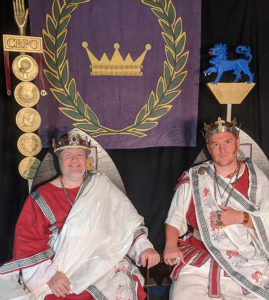 Their August Majesties Tindal and Alberic will will be accepting recommendations for Their first polls until 11:59 PM on Sunday February 7th.
Recommendations for non-polling awards (including Awards of Arms and all Silver level awards) are welcome at any time. You do not need to be a member of an order to recommend someone else for that order.
–
Award Recommendation Online Form (for all awards)
How to write an effective recommendation letter (via the East Kingdom Wiki)
Polling Orders in the East are as follows. Please see this East Kingdom Wiki Page for a full list of akk East Kingdom awards and their descriptions.
Peerage Level Awards
Order of Chivalry, Order of the Laurel, Order of the Pelican, Order of Defense
Orders of High Merit 
Order of the Silver Crescent, Order of the Maunche, Order of the Tygers Combattant, Order of the Sagittarius, Order of the Golden Rapier, Order of the Golden Mantle, Order of the Golden Lance.