In Memorium: Earl Sir Horic Gravagr Caithness
by Master Lawrence Thornguard, Baron Iron Bog.
Today, we celebrate the life of Earl Sir Horic Gravagr Caithness who was taken from us far too soon. Sir Horic was the knight who everyone loved and respected.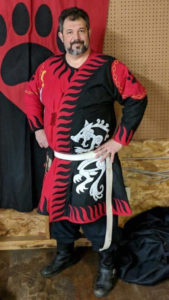 Horic came from a household of knights and peers from the early days of the East Kingdom and was squired to Viscount Sir Edward Gendy the Bloody Bastard. His squire brother Sir Mordreth and squire sister Baroness Paigan Crawford fought alongside him. Horic was 22 years old when he was knighted at Pennsic XV by Duke Ronald Wilmont and Duchess Brownyn, making him the 63rd Knight of the East. Sir Horic shared his ideas of chivalry through his squires, Sir Teric of Gwynedd, Sir Stephan von Dresden, Master Ozwald von dem Grunvold, Lord Ursis of the River, Lord Kahear, and Lord Garlon. They in turn produced knights and dukes of their own in several kingdoms. Horic fought in the Iron Dog Militia, for the Crown Province of Ostgardr, and was one of the founders of the War Puppies.
Sir Horic's prowess of arms was respected throughout the known world. He fought in both Unbelted and Chivalric Champions battles at many Pennsic Wars. He was King's Champion of Arms in AS XXI. It should be noted for the record, that the night before this tournament he stayed up all night partying his ass off. His time as King's Champion of Arms was cut short when he won Spring Crown Tournament for the honor of the love of his life, Countess Lea Gravagr by defeating Count Viktor Ghadwers in the finals.
Horic and Lea were the 44th King and Queen of the East and had a reign like no other. During their reign, they travelled at their own expense to the Principality of Drachenvald to settle problems within the principality. They held the Court of Chivalry for the infamous Duke Angus. They also had a lot of fun during their time on the thrones. Only Horic and Lea could hold an event like Stella Bellum. Their Royal Court began with the royal household playing Darth Vader's march and the opening theme to Star Wars on kazoos as they processed in and made it look good. After their reign, they took time off to raise their four children, Maclain, Angela, Jamie and James.
Upon their return to the SCA, Horic quickly reminded everyone what it was to be a Knight of the East. He wasn't always the first one on the field, but he would surely be one of the last ones off the field. At most events, after a day of fighting he would stay on the field and accepted challenges from other knights and up and comers without hesitation. At every event he could, he would spend time teaching to all who wanted to learn. Horic had a simple strategy when it came to fighting, he would throw thunderous wraps until his opponent dropped. If you were unfortunate enough to take his legs, you made him a more dangerous fighter. He won his second Sovereign's Championship from his knees in the finals at the age of 55. He remained the East Kingdom's Sovereign's Champion of Arms until his untimely death.
Sir Horic always spoke the truth, regardless of the consequences. He treated everyone with respect whether a royal or a new comer. He had a warm and welcoming smile and a stupid grin when he knew he was in trouble. He accepted the consequences of his actions and would always try to right his mistakes. At a particular Pennsic War, he over slept and missed the champions battle he was supposed to fight in. He spent the remainder of Pennsic War crying out the King's name, "LUCAN!" to everyone he killed. The King's name was heard a lot that war.
At Pennsic XVII, Horic and the War Puppies were in charge of security. War Puppies, golf carts, and torches, what could go wrong? Lots, but they managed to fix whatever went wrong. Sometimes, he used humor to get his point across. He had his squire, Sir Teric at Pennsic War put up posters on all the porto-potties, "Sir Horic Says, remember squire always sheath your sword" and "Sir Horic says, safe in battle, safe in sex". He had passed on to his squires the tradition of stupid squire tricks that Fast Eddy required of him. There were so many stupid squire tricks we did together that I cannot tell them all here and some I can never tell at all. I can say it was he and I who stole Settmour Swamp's banner for 3 days. Fast Eddy needed a blanket. Later, we set it up on the field for them to find at the start of the field battle.
I have heard so many people say, "He is the Knight I hope to become someday". What I hope they realize is that Horic was the same person in the real world. He adored his wife more than anyone can describe. He loved his family and friends and was loyal to a fault. He spoke the truth and let the chips land where they may. He treated everyone with respect, until you earned his ire. He was a warm teddy bear, with razor sharp claws and teeth. Therefore, I think it should be said, "He is the man I hope to become someday."
There will be a Zoom meeting held on Sunday, January 10 11am – 4pm for those unable to attend Horic's Funeral in person