A Parting Message from Queen Margarita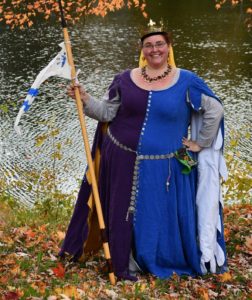 My Dearest East,
I am so lucky to have been on this journey with all of you. The generosity that you have shown to me, to each other, to the SCA at large, and to the mundane society we live in is truly inspiring. It's unbelievable to think about all of the things we have accomplished together in these unusual times, which makes it especially touching that many of you have taken the time to reach out to me personally. Each note I have received throughout this reign is kept in a special place so that I can take it out and read it whenever I'm having a hard day. The kindness and love that has been shown to me is something that continually refills my spirit.
I enjoyed every event I attended because of all of you. Getting to experience so many different events, playing with the children, practicing at the thrown weapons range, watching heavy fighting and rapier and even attempting archery has made so many memories that I will always cherish. Having fun with the populace, the guards and retainers has been a source of many shared smiles.
Cultivating friendships with our Eastern brothers and sisters in Canada has given me such great joy, and I can't wait for the borders to re-open so I can visit again with the new friends I am missing dearly.
From my very first official event as Queen, I have felt the love and support of the populace. You have inspired me, given me hope, and refilled my bucket every time I thought I could not go on. I only hope that you received and felt the love, support, and care that I tried to show and give you all. Every word and smile and tear that I had to give, I have left them with you all. Now as I retire, I look forward to watching the Consuls lead and guide this Kingdom. My only hope is that they find the same love and support that I did.
To all of you, remember that you are the true treasures of the East Kingdom. It is the people, not the awards or the titles or the status, that truly matters. The relationships we form, the families we create, and the friendships that last a lifetime are what the SCA is truly about.
I cannot wait to see you all again when we are able to meet together. Until then, dear treasures, remember to be kind to one another. Think before you speak, lend a hand when you can, and uplift those around you. Gathering is how this Kingdom will not only survive, but thrive.
Margarita
Queen of the East