BOD Announces Next Sovereign of Arms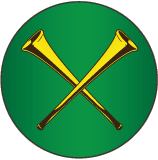 The Board of Directors is pleased to announce the selection of Jennifer Smith (Baroness Emma de Fetherstan, OP) as Laurel Sovereign-Elect. Jennifer/Emma will assume the position from current Laurel Sovereign Julia Smith (Julianna de Luna) at the close of her tenure on October 31, 2020.
The Laurel Sovereign of Arms (Laurel) is the principal heraldic officer of the Society and the head of the College of Arms. Laurel is responsible for fostering the study and practice of heraldry, and for establishing rules and making determinations regarding names and armory, royal and noble titles, and geographical designations to be approved for use in the Society.
Jennifer Smith has worked in information technology for most of her life. Currently, she is the head system administrator for her local K12 public school district. She lives in Stillwater, Oklahoma, along with her husband Russ, also in the IT field, two daughters, and two dogs. In her copious free time between work and the SCA, she enjoys computer gaming.
Baroness Emma de Fetherstan, OP, hails from England in the latter half of the 14th century. In addition to her pursuits in heraldry, for which she has earned the personal heraldic title of Temperaunce Herald, she enjoys playing period music, fibre arts in general, and helping out at events wherever she can. She has far too much fabric and not enough heraldry books.