In Memoriam – Liam Saint Liam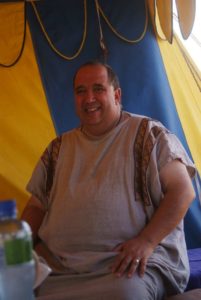 There is a game called Six Degrees of Kevin Bacon, claiming everyone in Hollywood can be linked to Kevin Bacon through co-stars in 6 jumps or less. We once tried to play "Six Degrees of Liam". We couldn't make it past two. It would be impossible to encompass all that was Liam in one short missive, but we must try.
Baron William O Donovan of Monmouth, OP, OSC, 12th Tyger of the East, schmoozer-extraordinaire, passed away on May 13, 2020 from the COVID-19 virus.
Known far and wide as Liam St. Liam, he and his family joined the SCA during the second reign of Lucan and Jana in the Barony Beyond the Mountain. The family joined so that his wife could participate in rapier, but Liam soon became a mainstay next to the fencing field, feeding the fencers, learning the skills of running a list table in order to support them, and doing what needed to be done. He was quickly recognized for his service to his home Barony with induction to BBM's Order of the White Oak by Baron Salaamallah the Corpulent. That same month, his service was recognized by his neighboring barony, Bridge, who awarded him the Freedom of the Bridge.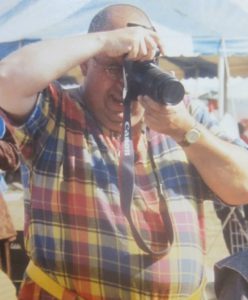 Queen Morgan gave him the Consort's Order of Courtesy and the same day, together with King Bjorn, awarded him Arms. Shortly thereafter, Lucan and Caitlin recognized his service to the Kingdom by making him a Companion of the Order of the Silver Crescent, and Darius II and Roxane II elevated him to the peerage by making him a Companion of the Order of the Pelican. Prior to his elevation to the Peerage, he was protege to Baron Steffan ap Kennydd, OL, OP.
A faithful servant of the Crown who was active in the Royal Households for many reigns, he was awarded the Queen's Honor of Distinction by Queen Gabriella and by Brenwen II, and the Consort's Award of Esteem from Etheldreda IV. He also held Royal Cyphers from Brenwen, Andreas III, and Konrad II. Darius IV and Alethea made him a Baron of the Eastern Court, and Konrad II and Brenwen II recognized him as the 12th Tyger of the East at their final court.
His service to the Kingdom and Society was broad and far reaching. He served as the Seneschal of the Barony Beyond the Mountain, and the Shire of Glenn Linn and was a familiar and well-loved face at the list table across multiple Kingdoms. He was also a talented photographer, who was generous in sharing his images and who had a special knack for taking photos that were flattering and captured special moments. He ran many auctions for the royal travel fund, and taught many classes. He used his modern teaching knowledge for a "How to Teach in the SCA" class. He also taught many classes on SCA music, Interkingdom Anthropology, and SCA history. A favorite for him was the newcomers class he would teach with Master Ernst Nuss von Kitzingen, lovingly referred to as the "Liam and Ernie Show."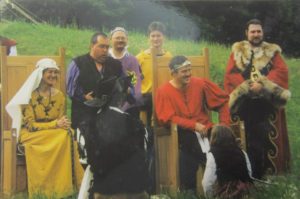 Liam's fundraising efforts throughout the years supported the kingdom in many ways, and he was not afraid to embarrass himself to do it. Mistress Aelfgifu of the Hazel Thicket shared: "At a Barony Beyond the Mountain Yule, many years ago, he participated in a fundraising auction. His offering? He would sing and act out "I'm A Little Teapot" for the person who offered the most money to the fundraiser. I have no recollection of how much money was paid, but I will never forget him with one hand on his head and the other as the "spout" as he "tipped" himself over…and that's my favorite Liam story."
Liam may have lived in the East Kingdom his entire SCA career, but he touched those throughout the Known World. As the internet became a place of SCAdian connection, "The Liamverse" was coined as Liam connected those far and wide with others of similar interests. Liam was a longtime reporter for the Pennsic Independent, and many rapier fighters credit him with making sure that rapier events and battles were included in the news. A trip to Calontir for Lilies' War in 1999 netted him life-long friends and connections across the known world, even before the internet made such wide-ranging connections possible. He collected stories from people and places wherever he traveled. His pilgrimage to Lilies' War and ties to Calontir provided him with one of his most popular stories, "Pavel and The Traffic Cone."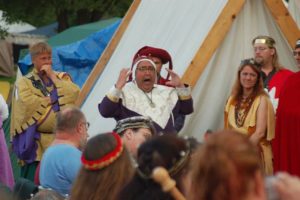 One of Liam's favorite sayings was, "If you can't sing well, sing loudly." And sing loudly he did. A connoisseur of SCA Filk and Bardic, Liam could often be found at Calontir Bardic Nights at Pennsic. He taught classes, shared lists of important SCA songs, and supported SCA musical creators whenever possible.
Baroness Aline Swynbroke, OL, currently in An Tir, formerly of Ansteorra, shared: "Liam was the sort of peer who welcomed others to the fire, made them comfortable, and shared the SCA's history in a way that was accessible, but never stuffy. Never 'Well, I was there, so this is THE way…' He was the kind of peer that put people at ease. And the kind who, when he saw me completely shell shocked after my [vigil announcement] on Friday morning, smiled and told me to relax and just keep having fun. That was the secret."
In his own words, " I have, umm, a bubbly personality. I am friendly and loud and round. If I am around, people know. Hard to miss. Kind of like, say, a hurricane." Liam was, in fact, a force of nature.
Liam had a big heart and a big mouth, along with a wicked sense of humor that often got him into and out of trouble. He once bragged to the then Queen Marguerite inghean Lachlainn that "he knew everybody" and got himself a quest to make 1,000 introductions. "This is exactly the kind of quest he lived for. It wasn't punishing him, by any means – it wasn't really even keeping him out of trouble," says Countess Marguerite. "But it was keeping him busy and on topic." This set off a hilarious cascade of events, including Liam trying to introduce the king to his own wife, and his proteges running ahead of him to make introductions before he could. He completed the quest, though, and presented her Majesty with a book of 1,000 connections.
Liam took great joy in the accomplishments of others, and would often be heard bragging about the accomplishments of those around him. Of particular pride were his wife Alethea's reign as queen of the East, and his daughters' accomplishments and eventual peerages. "'Lay-um' St. Liam was a magnet. He knew everyone and everyone knew him. His kindness and friendship could be felt radiating out from him and through every other person he touched," Mistress Naomi Bat Avraham shared.
He is survived by his wife, Countess Alethea Eastriding, best friend Lady Serafina Della Torre, his daughters, Mistress Tola knitýr and Mistress Leonete D'Angely, with their spouses Lord Arngrimr Meinfretr and Lord Ulfr Steinsson and his two beloved grandchildren, as well as by the girls' mother, Master Nataliia Anastasiia Evgenova Sviatoslavina vnuchka. He leaves behind multiple proteges, households – especially Sharc Pit and Maguire's Marauders – and a devastated kingdom.
An in-person memorial service will be held in March 2021, sometime after COVID-19 stops threatening to take away the people we love. If you would like to make a donation in his honor, we recommend the Special Olympics, GLSEN, or 100KfromtheSCA.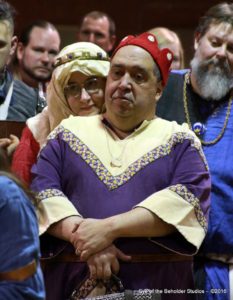 If Liam had been writing this obit, he would have done so with a beer in one hand, the Kenneth Branaugh Henry V playing in the background and his Red Sox themed coronet jammed down on his head. He is deeply, deeply missed.
photos provided by Liam's family.