Announcement from HRM and TRH About Coronation Plans / Annonce de HRM et TRH sur les plans de couronnement
This message is also available as a video on YouTube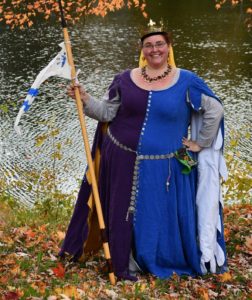 Hello East Kingdom,
Thank you my dear ones. We are all experiencing an unprecedented and difficult situation. The actions of the subjects of the East from small to large, within the society and in the modern world, have been inspiring.
The efforts to stay connected as we have lost the ability to be physically together are what keeps us a kingdom. Tyger strong, keeping the spirit of the East vibrant and alive.
Looking forward on the calendar, it is easy to see the things we have lost. Events that had tremendous time and effort invested in planning, a future that was full of hope. Days that would have become memories about the glory of the subjects of the East Crown last November continued the lineage of the East as We became heirs to the Tyger thrones and Princes of Tirmara. But the next step, a coronation, a day we held dear, has been beyond our grasp. We have moved that event forward in the hopes the world would come to a place where it was safe to gather together. A hope we still have within our hearts.
But, We must also face the possibility that such a day is further away than is feasible to wait for. So, at this time, we commit to the kingdom to put a solid timetable in place, that we may all stand comfortably with whatever the future brings.
To accomplish this, We are looking for bids for a coronation in the late months of the Summer and Early fall. With a commitment that whatever happens, whether we are able to gather physically or not, Her Majesty will pass the role of sovereign of the East to Us no later than October 3.
In the time until such an event, physical or virtual, We will still gather electronically, to stay connected and to celebrate the continuing spirit of the East.
As we all continue to adapt, more changes will inevitably occur. Our hearts beat with the blood of the East. We hear the populace's counsel, and we hope to continue to bring forth the best of Our Kingdom.
We know how much this society means to you. How much care and love Eastern subjects have for each other and this Kingdom. You have our full commitment that we are trying our best; there may never be a perfect solution, but We are striving to get as close as possible for all Our subjects.
As we move forward, let us celebrate the East and acknowledge the struggle, commitment and soul that each of you bring to this glorious kingdom. You are the true treasures of this Kingdom. Continue to be kind and have patience with each other. Together we will get through this and be stronger for it.
---
En Français
Bonjour Royaume de l'Est
Merci mes chers amis. Nous vivons tous une situation sans précédent et difficile. Les actions des sujets de l'Est, des plus petites au plus grandes, tant au sein de la société que dans le monde moderne ont été inspirantes.
Les efforts pour rester connectés alors que nous avons perdu la possibilité d'être physiquement ensemble sont ce qui fait de nous un Royaume. Le Tygre est fort, gardant l'esprit de l'Est vibrant et vivant.
En regardant le calendrier il est facile de voir tout ce que nous avons perdu. Des événements qui ont demandé énormément de temps et d'efforts à planifier, un avenir qui était plein d'espoir. Des jours qui seraient devenus des souvenirs à la gloire des sujets de l'Est.
Le Tournoi de la Couronne de novembre dernier a perpétué la lignée de l'Est alors que nous sommes devenus les héritiers des trônes du Tygre et les Princes de Tirmara. Mais la prochaine étape, un couronnement, un jour qui nous est cher mais hors de notre portée. Nous avons reporté cet événement dans l'espoir que nous pourrions arriver à un moment où il serait sécuritaire de se réunir. Un espoir que nous portons encore en nos cœurs.
Mais, nous devons envisager la possibilité qu'un tel jour soit plus éloigné qu'il soit possible d'attendre. Nous nous engageons donc à ce que le Royaume mette en place un échéancier réaliste afin que nous puissions tous être à l'aise avec ce que l'avenir nous réserve.
Pour ce faire, nous souhaitons obtenir des soumissions pour la tenue du Couronnement, pour la fin de l'été et au début de l'automne, avec l'engagement que quoi qu'il arrive, que nous puissions nous rassembler ou non, Sa Majesté nous confiera le rôle de souverain de l'Est au plus tard le 3 octobre.
En attente d'un tel événement, qu'il soit physique ou virtuel, nous continuerons de nous rassembler de manière électronique, pour rester connectés et, de ce fait, continuer à célébrer l'esprit de l'Est.
Alors que nous continuons tous à nous adapter, d'autres changements se produiront inévitablement. Nos cœurs battent grâce au sang de l'Est. Nous écoutons les conseils de la population et nous espérons toujours faire ressortir le meilleur de Notre Royaume.
Nous savons à quel point la Société est importante pour vous tous. Nous savons aussi à quel point vous aimez votre royaume et à quel point notre peuple est attentionné les uns envers les autres. Vous avez notre sincère engagement que nous faisons de notre mieux; il n'y a pas de solution parfaite, mais nous nous efforçons de nous rapprocher le plus possible de tous nos sujets.
Alors que nous traversons cette situation, célébrons, tous ensemble l'Est en reconnaissant la lutte, l'engagement et l'âme que chacun de vous apporter à ce royaume glorieux. Vous êtes les vrais trésors de ce Royaume. Continuez à être courtois et à faire preuve de patience les uns envers les autres. Ensemble, nous passerons à travers tout ça et nous en ressortirons grandi.