In Memoriam: Sir Berach MacTavish
The following message was provided to the Gazette today.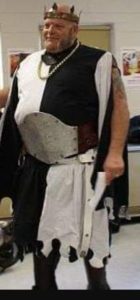 It is with heavy heart and permission of his family that this announcement comes. On the afternoon of November 26 we lost a kind and gracious member of our Society, Berach Mactavish. He was a member of the Lost Boys (Markland) ,as well as a Baron and Knight of these Great Eastern lands; who in person, action, and heart was bigger than life. Husband to Katrina MacAulish, father to Maggie and Stacy, beloved grandfather, and cherished friend to so many, he leaves a hole in our hearts at his passing from our lives.
Bear has not participated in recent years due to health concerns yet I can not remember a Pennsic, as well as many other gatherings, where his name was not spoken, and memories and stories shared which did not fill our hearts with warmth while smiles brightened our faces. His tent was always a gathering spot for all, his friends were family.
Bear has been a member of this society for well on 20 years. Squired to Duke Darius, he became a member of the Tygers Combatant and was knighted the following year at the 37th Great Pennsic War. Bear leaves us with wonderful memories, skills shared, and an example of a peerage to be reflected upon.
In memory of Bear, as well as all those who have passed before us, it is hoped that your eyes soon will be filled tears of joy and laughter, not sorrow, as we remember our friend and the piece of his heart left in our care. Remember to share this precious gift with others in story and deed so that he continues to live on into eternity. Please reach out to friends you may have not seen in a while and say hello, not just now but always. The blessings of a long life are a doubled edged sword, time slips by so quickly, we gather many friends and touch many lives, we get older and the people we cherish pass beyond this mortal world. Let us all raise a glass to Bear, share a cigar if you so inclined, eat well, and celebrate life well lived, much loved, and always cherished. Our condolences go to his family, those of blood as well as those of heart and deed.
A memory service is planned for mid December.
Berach MacTavish was made a Baron of the Eastern Court by Darius II and Roane II in April of AS 37, and was knighted at Pennsic 37 by Konrad and Brenwen. He was also a companion of the Order of the Tygers Combatant and the now-closed Order of the Fish of the Barony of Carillion.